The town of Akureyri
The town of Akureyri has set a goal to be carbon neutral. This goal has been systematically pursued in various ways over the last couple of years.
It was clear from the beginning that Akureyri could achieve carbon neutrality through various different methods that center green solutions in the town's operations.
Work is currently underway on Akureyri's first Environmental and Climate Policy, which will regulate emissions from municipalities and the operation of the town.
Green Solutions in Akureyri
In recent years, Akureyri has shown initiative in environmental issues and has implemented many green solutions for its residents.
These green solutions lift up a circular economy as the guiding principle to move the town toward a more sustainable future with effective resource utilization.

Recycling
In the town's districts, residents can dispose of their sorted waste at local stations, sending recyclable waste in the right direction.

Compost - Organic Waste
In 2009, the Molta composting station began operating in Eyjafjörður. To reduce the amount of waste sent to nearby landfills, each household was allocated a green barrel for their organic waste. Molta receives the organic waste and converts it to nutritious fertilizer.

Orkey
In 2011, the company Orkey began producing biodiesel from used cooking oil that was collected from
homes, restaurants, and companies around the country.

Methane
Since 2014, methane fuel has been produced from the old landfill in Akureyri. Akureyri uses the methane fuel for the town's buses and process cars.
Free Bus
Since 2006, the bus in Akureyri has been free, which increases resident's use of public transport and quality of life.
Electric Cars
Charging stations for electric cars can be found all over the town. Cars that run on renewable energy have priority in the town's parking lots
Akureyri's environmental and climate policy was approved on 10 May 2022.
The policy states that statistical information must be kept on the town's environmental issues, such as environmentally friendly energy sources, transport, air quality and waste. Below are key figures for recent years that demonstrate positive environmental performance.
The policy's aim is to encourage the Akureyri's residents to help achieve the town's environmental and climate goals.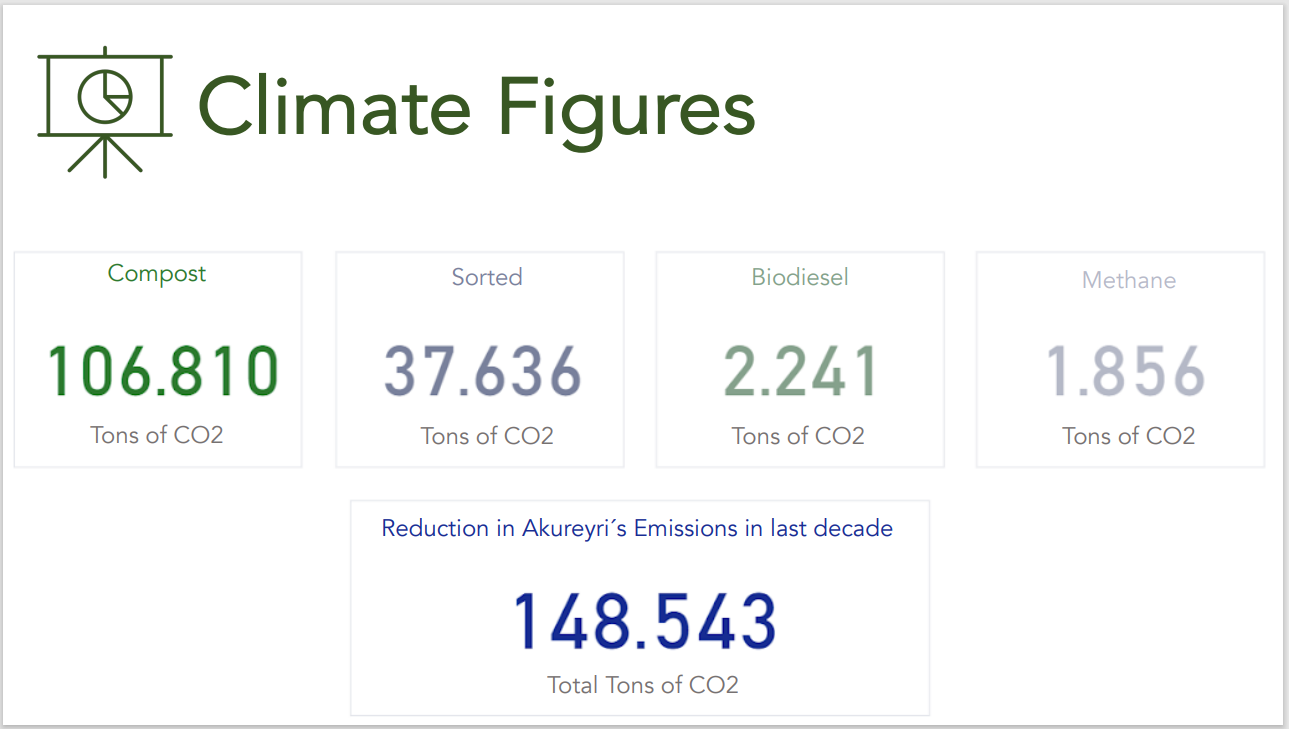 It can be seen that Akureyri's environmental actions have resulted in a 150 thousand tonnes reduction in carbon dioxide emissions since 2019. Waste treatment has yielded the best results, especially the sorting of composted organic waste.
Passenger Car Fleet
One of Akureyri's goals is to become at least carbon neutral, and one of the largest sectors of focus is transport. The number of passenger cars that run on electricity (in part or in full) has increased in recent years. Here you can find more information, or the webpage Choose an electric car gives you information about all electric cars available in Iceland.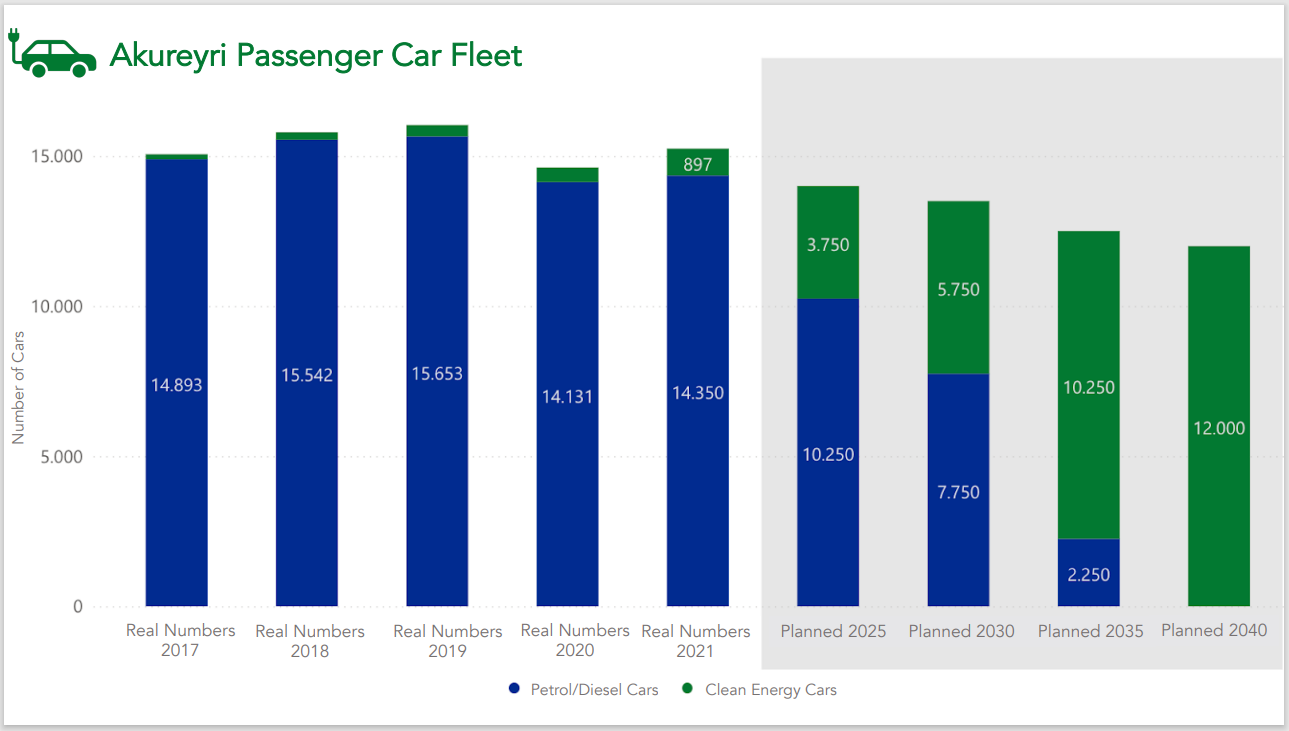 The figure shows the ratio between passenger cars in Akureyri that run on fossil fuels and those that run on environmentally friendly energy. The four pillars on the right are the town's goals in this regard by the year 2040.
Biofuels
Biodiesel can be processed from bio-waste materials, such as used cooking oil, fat and slaughter waste. Biodiesel can be added to ordinary diesel oil or used directly as a fuel in a conventional diesel engine without needing to change the engine. In Akureyri, biodiesel oil is produced from used frying oil at Orkey. A good relationship has been established with restaurants and the general public in the collection and reception of frying oil. Service companies collect the oil from restaurants. The public can collect and return oil to local stations through the project Energy From the Kitchen.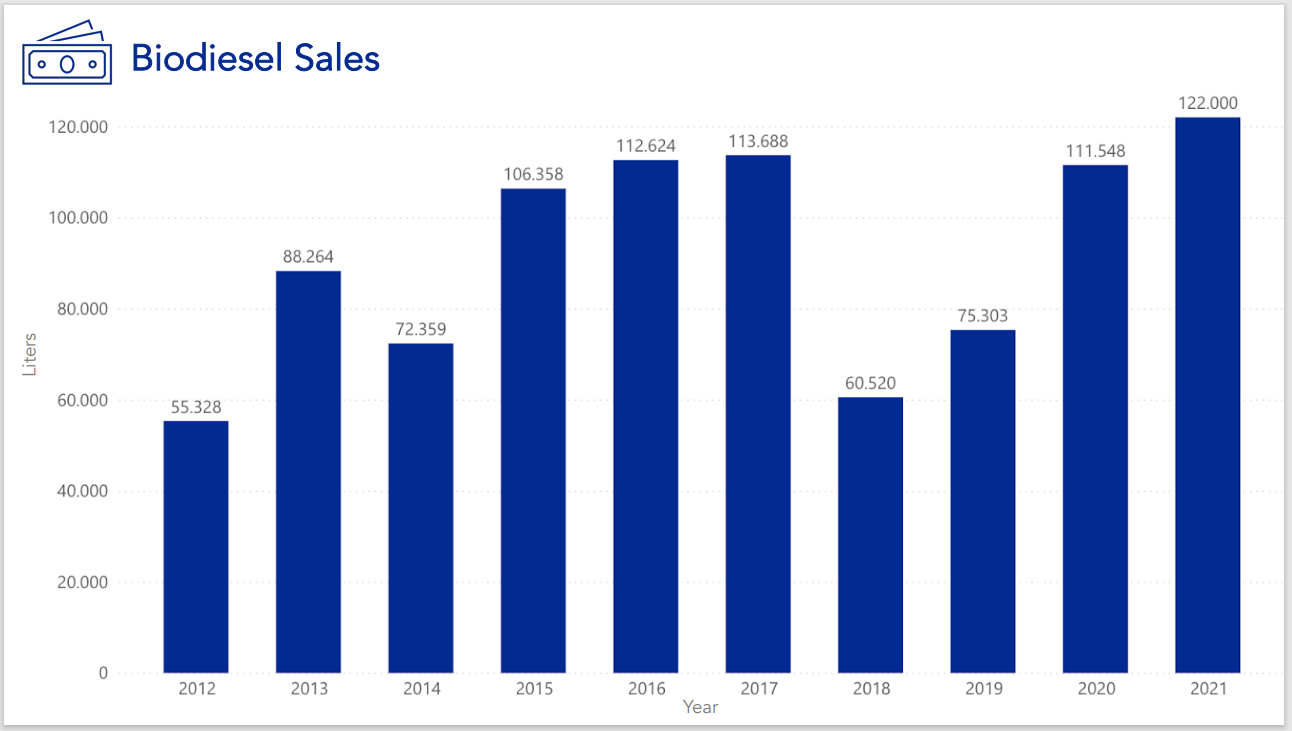 Methane (CH4) is a compound of carbon and hydrogen. It is the main source of biogas and has been used as car fuel. Landfill gas emitted directly into the atmosphere is ~25-30 times more harmful than CO2 formed by the combustion of methane. The utilization of methane, which would otherwise flow directly into the atmosphere, not only benefits the environment but is also economically viable. For every Nm3 (Newton cubic meter) of methane burned in an engine, one liter of imported fossil fuels is conserved. Norðurorka has been producing methane gas from the landfills in Glerárdalur above Akureyri since 2014.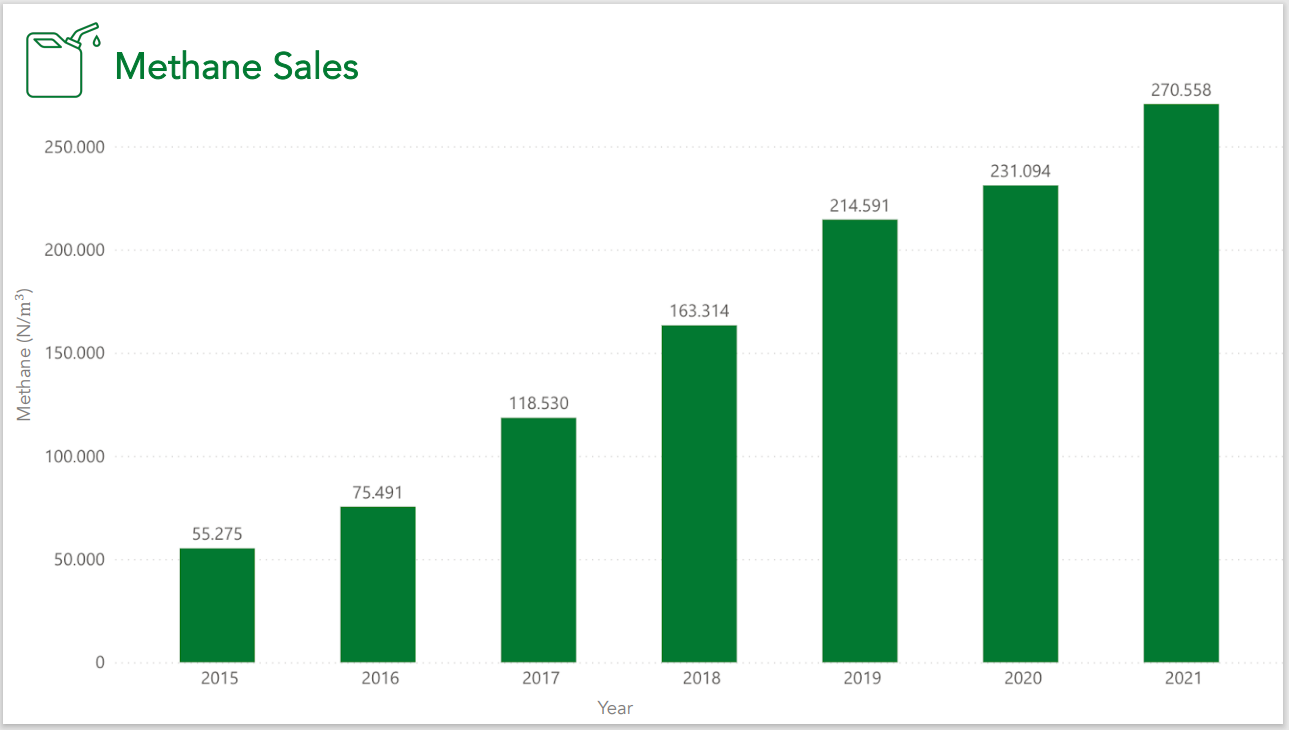 Waste
The government recently introduced new policies and legislative changes that will majorly impact waste management arrangements. The policy called Towards a Cycle Economy gives the local government a clear framework on how to collect and treat waste. Most importantly, it will be possible to raise the tariff for people who do not bother to sort their waste, a landfill tax will be imposed, and a ban placed on landfilling organic waste. Old waste can be recycled, such as organic waste used as fuel, fertilizer and soil. This has positive benefits environmentally and economically.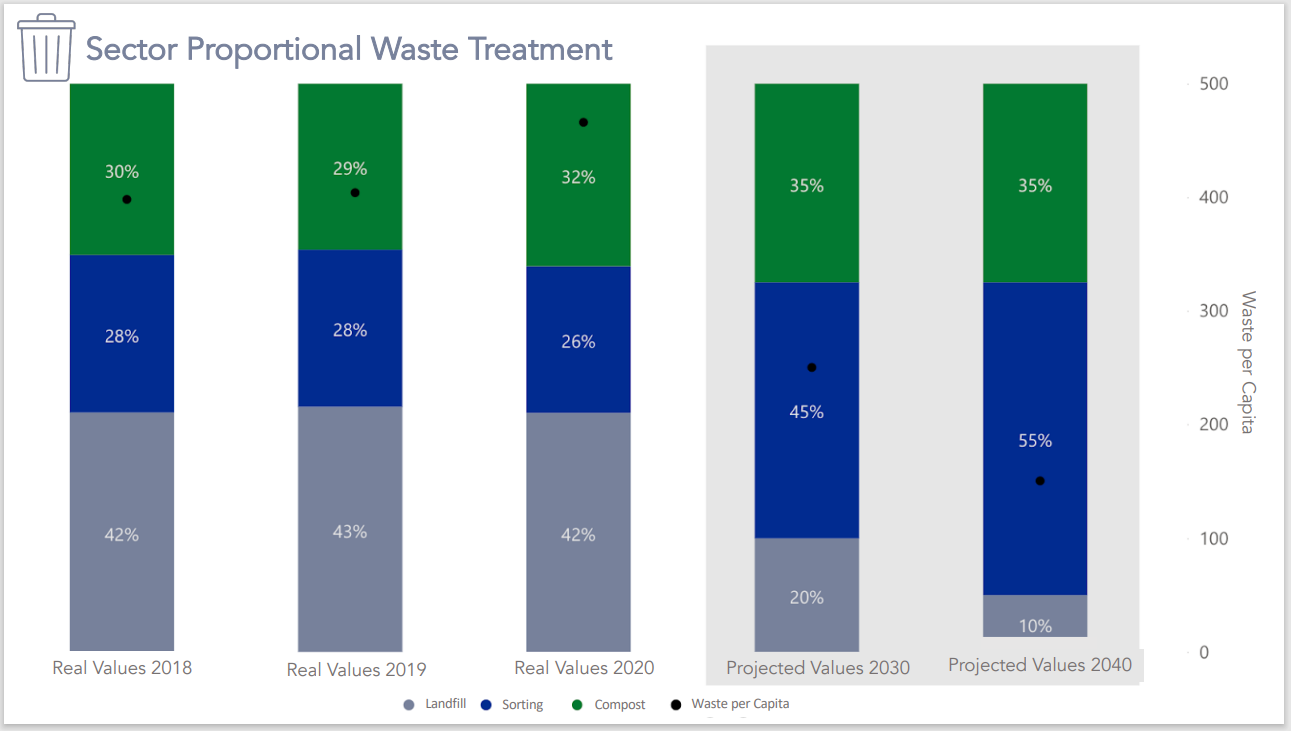 Fallorka
Fallorka buys and sells electricity throughout the country and builds power plants for electricity production. The company now operates two hydropower plants in Glerá and two in Djúpadalsá in
Eyjafjörður. Fallorka operates three charging stations in Akureyri and can charge eight cars at once. The stations are located by the Town Hall, Akureyri Swimming Pool and County Library.
Fallorka accounts for environmental factors in its operations and emphasizes continuous improvement. The company now has an exploration license to examine further possibilities for the power plants in Djúpadalur and Sölvadalur.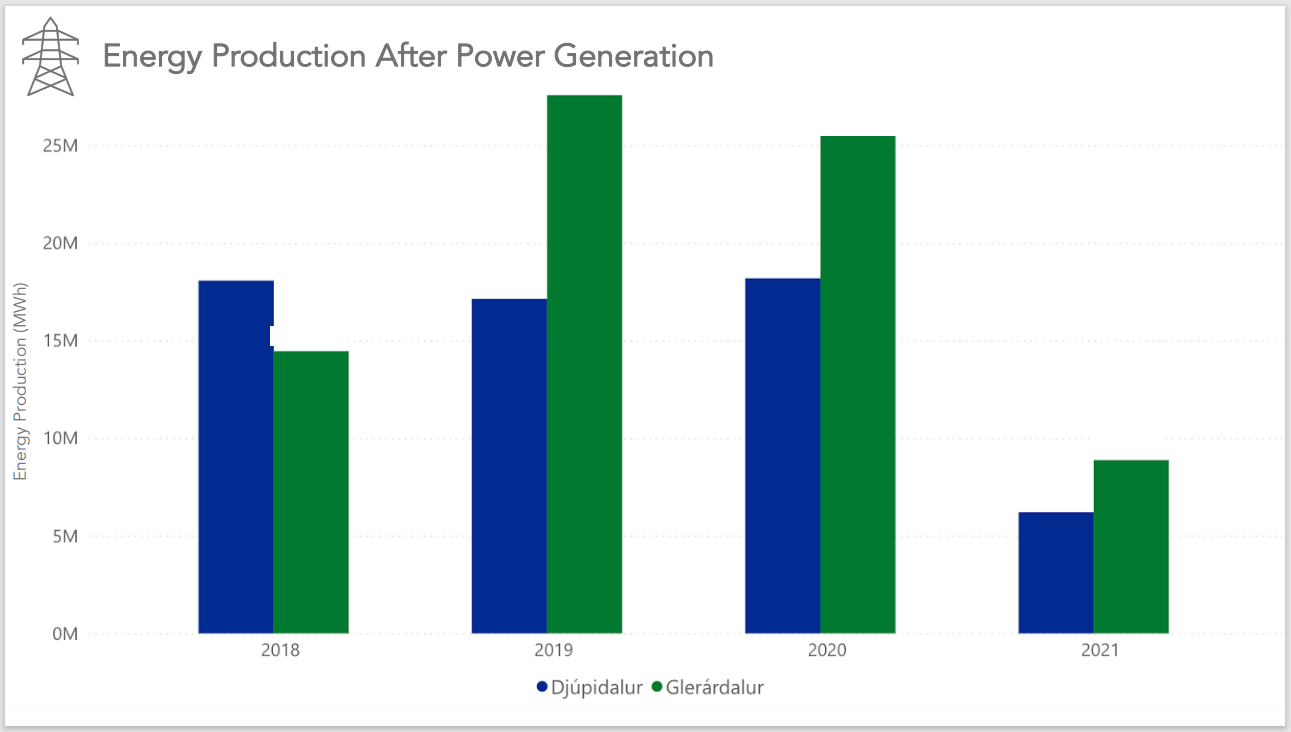 Air Quality
Pollution can affect the well-being of people with asthma or underlying diseases. Fine particles have a larger impact on people's health than coarse particles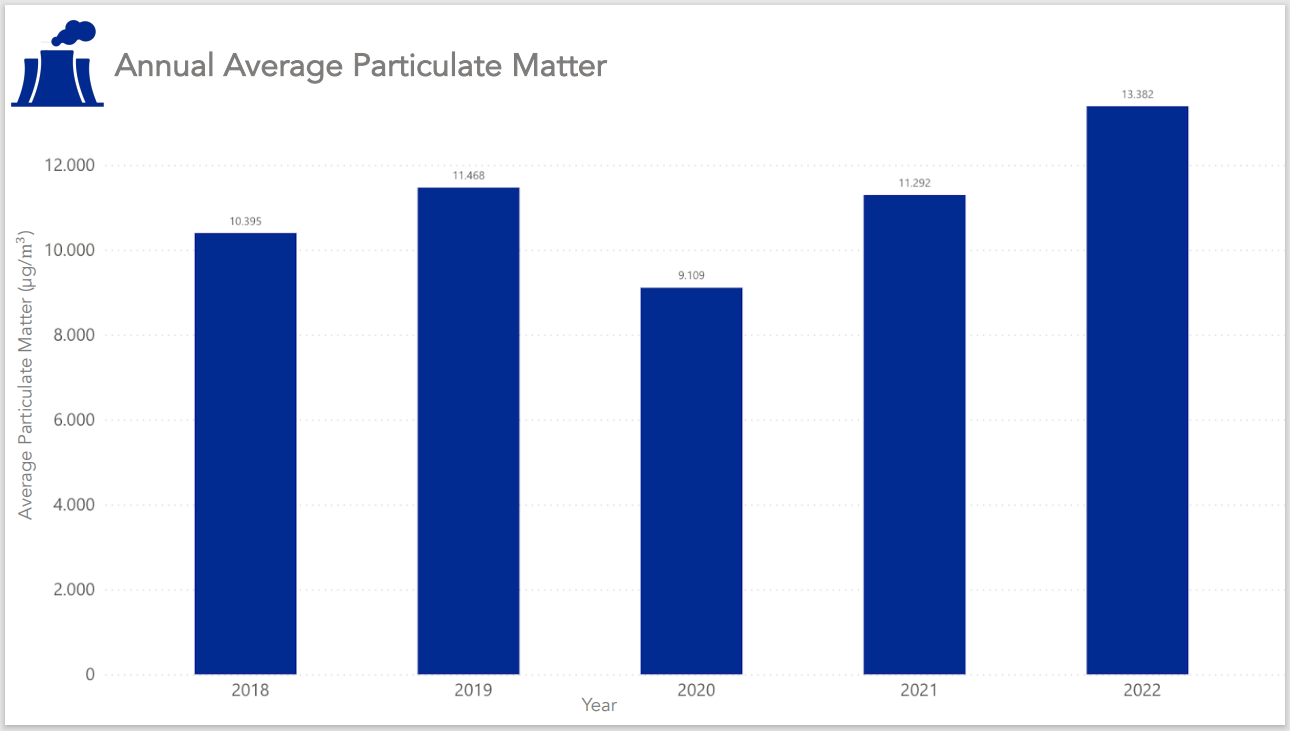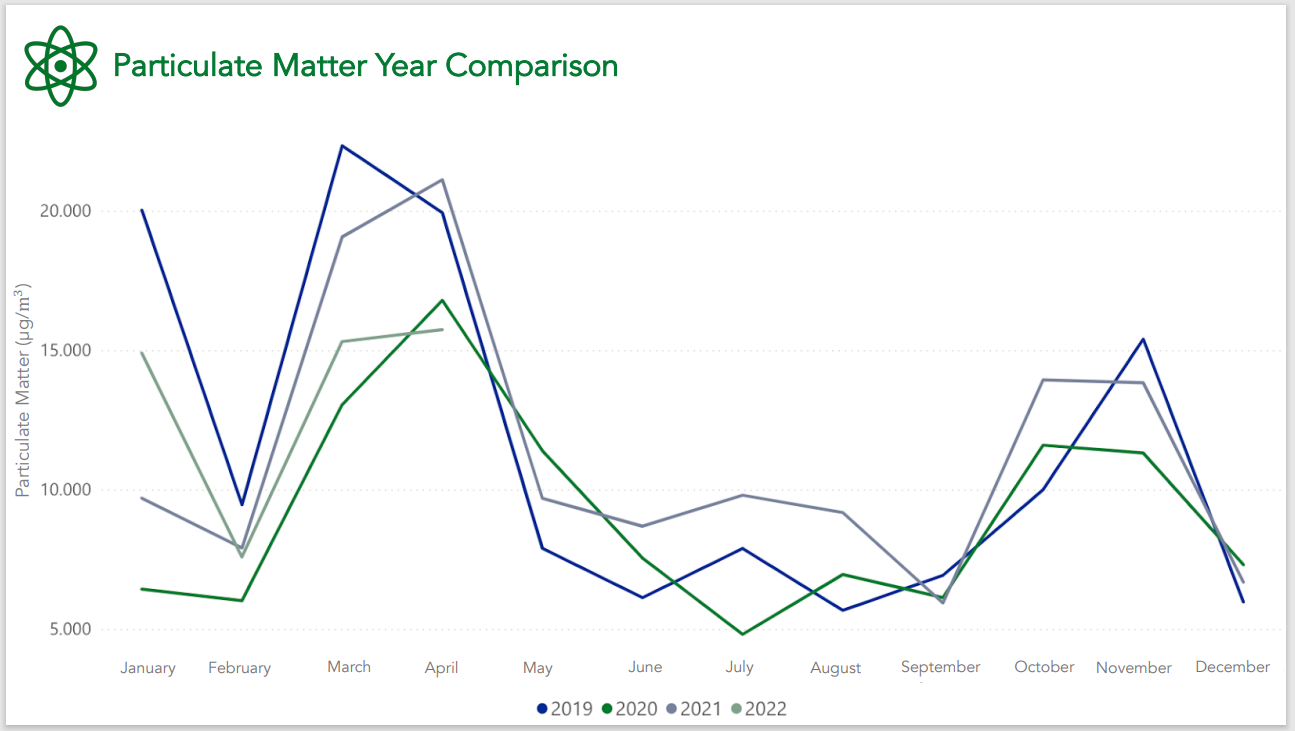 Akureyri is a member of the Global Covenant of Mayors for Climate & Energy (GCoM), which is a joint statement by mayors around the world. This statement declares their willingness to reduce greenhouse gas emissions, strengthen resilience to climate change, publish statistics on the performance of relevant cities in climate change and set a goal to improve those performances.
Akureyri is one of three municipalities in Iceland that have joined GCoM. The others are the cities of Reykjavík and Hveragerði. What all these members have in common is that they want to be at the forefront of climate change, promote public and private sector investment in climate-friendly solutions, and support ambitious regional cooperation in the spirit of sustainable development. With this statement, the municipalities want to show that local actions can significantly impact the world.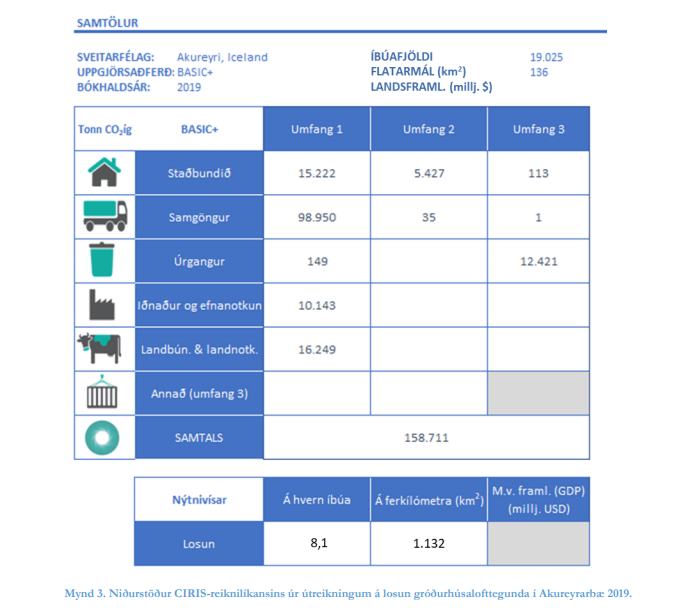 Akureyri's environmental and climate policy was submitted to the town council and approved on May 10, 2022.
The policy hopes to allow Akureyri to continuously strive for progress and ambition in the town's environmental and climate issues. The policy also wants to push Akureyri to remain at the forefront of environmental issues.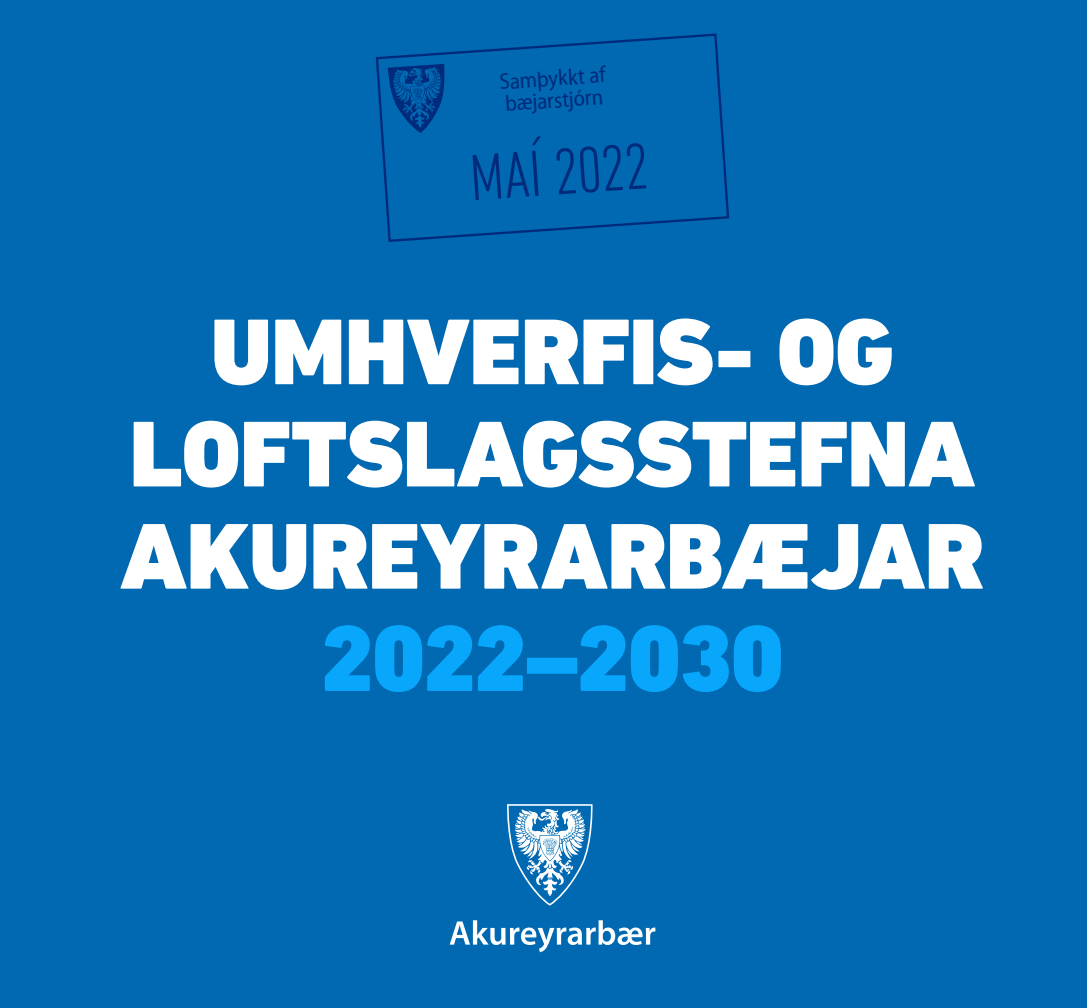 Norðurorka is one of the most potent energy and utility companies in Iceland. Their energy supply is abundant and based on sustainable resources. Long-term resources are secured through research, and systematic efforts are made to prevent the wasting of resources and to protect water wells.
Norðurorka operates district heating in eight municipalities by Eyjafjörður and in Þingeyjarsveit, water supply in five towns, and electricity and sewerage in Akureyri.
Electricity
Electricity has become an integral part of daily life. Most people give little thought as to where their electricity comes from. The list of devices and equipment that require electricity to run is infinitely long, and most of us have a hard time imagining that society can function normally without electricity.
Norðurorka distributes electricity in Akureyri. Electricity distribution involves receiving the electricity from a transmission company in the primary substations and transferring the electricity from there via cables to smaller distribution stations. The electricity is then routed through lines in street cabinets. Finally, it travels through a local loop into the customer's house.
District Heating
Most people take hot bath and shower water for granted. When traveling abroad, they seldom think about how their water is able to heat up. Is it geothermal water, or is the water heated with gas, coal, or electricity?
Icelanders are very fortunate to have access to geothermal water's unique resource. About 90% of the country's households can use it.
Norðurorka operates district heating utilities in six municipalities in Eyjafjörður and Þingeyjarsveit, and there are eleven district heating production areas.
Water Supply
Water is without a doubt one of the most valuable resources on earth. In Iceland, we have access toexcellent and healthy cold groundwater for consumption, without having to treat it before use.
One of Norðurorka's major projects is to ensure enough clean and sound drinking water for individuals and companies in the supply area. The Northeast Health Inspectorate monitors the drinking water and processes and distributes Norðurorka's certified quality system.
Norðurorka operates water utilities in Akureyri, Hrísey and Grímsey, Svalbarðsstrandarhreppur and partly in Eyjafjarðarsveit and Hörgársveit.
Sewer
We don't often think about the sewer, even though we probably would never want to be without it.
Akureyri's sewerage system is extensive and systematic work has been done to build it up, such as the construction of several pumping stations and overflow stations and the laying of a pressure pipeline along the coastline to a new outlet at Sandgerðisbót.
Norðurorka hf. took over the Akureyri sewer with an agreement to that effect, and the takeover was based on the turn of the year 2013/2014. In addition, Norðurorka operates sewers in Hrísey and Grímsey and partly in Hörgársveit.
Norðurorka's Measures to Reduce Carbon Emissions
The company is working to reduce the amount of carbon it releases into the atmosphere. The following are examples of measures to reduce carbon emissions:
Norðurorka Cars
When renewing the company's car fleet, the possibility of environmentally friendly cars that meet the requirements for the vehicles at any given time is constantly explored. At the end of 2020, about 43% of the car fleet was powered by methane or electricity.
Garbage Sorting
Norðurorka's staff has been introduced to waste sorting, and sorting containers have been set up all over the company. In 2015 - 2020, the share of sorted waste due to Norðurorka's operations had gone from 62% to 85%.
Electric Bikes
Norðurorka has offered its employees a grant to buy electric bicycles for private use twice. Many employees have taken the opportunity and invested in an electric bike, which is certainly welcome in a town like Akureyri, where there is a significant elevation. Some employees come to work by bicycle all year round, which reduces carbon emissions.
Transport Subsidy to Staff
The company has encouraged employees to take advantage of environmentally friendly and wholesome means of transport to travel to and from work. Eco-friendly means of transport means that a mode of transportation other than a private car is used, e.g., walking, cycling, or public transport. The payment of the transport subsidy is by the Director of Internal Revenue's tax assessment each year.
Biodiesel Production
Norðurorka owns Orkey EHF., which operates a biodiesel factory in Akureyri. Biodiesel is made from domestic raw materials, such as frying fats from restaurants and other high-fat and oily waste. The company's processing is an essential factor in reducing waste that could otherwise end up in the town's sewerage systems or landfills.
Vistorka EHF.
Vistorka is the project office of Norðurorka's owners in environmental issues. We work with solutions that are useful for achieving the goals of a carbon-neutral society. The biggest project is an energy exchange in transport.
Planting Trees
At the beginning of 2020, Norðurorka owned 54 hectares of forest that sequestered carbon dioxide. The company's planting project has been revived, and, in collaboration with the town of Akureyri, the possible planting areas of Norðurorka have been roughly mapped. About 550 willow trees have been planted in Norðurorka's methane extraction area, and Norðurorka's forestry plan will continue to be worked on for the coming years or decades.
The Green Funnel
In collaboration with Norðurorka, Orkusetur, Gámaþjónustu Norðurlands, and Orkeyjar, a systematic collection of used cooking oil from homes was carried out with the "Green Funnel," in addition to further accumulation of frying oil from restaurants and canteens. This effort resulted in a 50% increase in cooking oil for biodiesel production at Orkey. In addition, less fat was placed in the town's sewer system.
Methane Production – The Capture of Natural Gas
The old landfills in Glerárdalur were used from 1972 to 2009. By nature, they are unclassified piles, meaning that everything was mixed. Landfill gas is formed over time, under anaerobic conditions, where the methane content is about 57%.
Landfill gas released directly into the atmosphere is about 23 times more harmful than CO2 formed by methane combustion, e.g., in a car. Therefore, the utilization of the methane that would otherwise flow directly into the atmosphere is an excellent benefit for the environment and is also economically viable, as for every Nm3 of methane burned in an engine, one liter of imported fossil fuels is saved.
Four methane-powered process cars and three buses are in operation near Akureyri, along with smaller methane cars. Norðurorka has 15 methane cars in operation, and that number is increasing.
Charging Stations for Electric Cars
In 2017, Vistorka received a grant of ISK 26 million from the Energy Fund to strengthen the infrastructure for electric cars nationwide, collaborating with municipalities throughout the Nordic region. Vistorka continued to negotiate with Orka náttúrunnar for implementation, and now Orka náttúrunnar and Ísorka have set up ten charging stations for electric cars throughout the area.
Fallorka
Fallorka EHF. is a subsidiary of Norðurorka and is responsible for producing and selling electricity to customers all over the country. All of Fallorka's electricity production is from hydropower. The company operates four hydropower plants in Eyjafjörður, with two in Glerá and two in Djúpadalsá. In 2020, energy production was 44 GWh.
Eimur
Eimur is a joint project of Landsvirkjun, Eyþing, Norðurorka, and Orkuveita Húsavíkur on improved utilization of energy resources and increased innovation in energy matters in the Northeast. Eims' work is, in many ways, intangible. It is mostly about seeking opportunities and increasing knowledge, publicity, and the possibility for parties to further utilize the by-products of energy resources in the area to create value.
Sewerage Environment
The sewage treatment plant that was formally put into use in late 2020 is undoubtedly a positive for Norðurorka's environmental affairs and for the whole community around Eyjafjörður. The "first stage of cleaning" takes place in the treatment plant, when all solid objects in the sewage water are filtered off with a three-millimeter step filter before the sewage water is discharged into the fjord.
Fallorka owns and operates four hydropower plants in Eyjafjörður and sells only green-certified electricity. Here you can see Orkustofnun's statement to that effect. Norðurorka wholly owns Fallorka. Fallorka is researching more power plant options in Eyjafjörður, including Djúpadalur, where the company has received a formal exploration permit from the National Energy Authority. The company has also investigated the possibility of harnessing wind energy in the lowlands by Eyjafjörður.
Hydropower
Fallorka owns and operates four hydropower plants connected directly to Norðurorka's distribution system in Akureyri. There are two power plants in Djúpadalsá in Eyjarfjörður, and two in Glerá, which flows through Akureyri. Fallorka has a contract with Landsvirkjun and Landsnet to ensure the delivery of electricity to customers throughout the country.
The total installed capacity of these four power plants is 6.5 MW, and the annual production is ~44 GWh, or 44,000,000 kWh. This production equals the energy used by 20,000 electric cars to drive an average of 12,000 km per year, or approximately 240,000,000 km. The 240 million kilometers that will be run on electricity rather than oil will reduce CO2 emissions by 50,000 tons per year, and the energy costs of car owners will decrease by 4 billion ISK per year.
Windmills and Solar Cells
Fallorka installed wind turbines and solar cells in Grímsey in the summer of 2022. The project was carried out in collaboration with Vistorka and Orkusetur with support from the European project
SMARTrenew and the Energy Fund. It installed two 6 kW wind turbines (from SD Wind Energy) and 12 kW solar cells (from IBC Solar) over 50m2 in size by Múli. Production information is available on the website.
Before these installations, the total oil consumption on Grímsey was about 400 thousand liters per year. It can be estimated that greenhouse gas emissions due to energy consumption in Grímsey were around 1,000 tons of CO2 per year, not including fishing boats. Fallorka's project will reduce oil consumption by 20,000 liters per year and greenhouse gas emissions by 50 tons per year.
Here you can read more about the case in a news item from Akureyri's website.
Fallorka assessed lowlands in Eyjafjörður that could be suitable for wind electricity generation. The eastern part of Hörgárdalur is considered the most promising option of the areas under consideration. It is estimated that up to 40 MW can be generated in the area. The power plant option has been named Vindheimavirkjun and given the number R4305A in Framework Plan 4. Here you can see Efla's report on the National Energy Authority's website.
Charging Stations for Electric Cars
Fallorka owns and operates one 2x22 kW charging station at Akureyri City Hall. In collaboration with Vistorka, the aim was to open three new 2x22 kW stations in June 2021. The stations will be the County Library by the Akureyri Swimming Pool, and another station will be added to the Town Hall. The stations are from Ísorka, and electric car owners are encouraged to download the Ísorka app, but it is also possible to pay directly with a credit card.